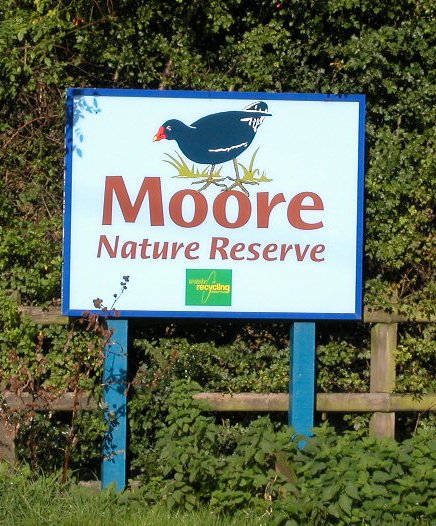 Nature Reserve Wardens: Paul Cassidy and Brian Webber

Foray Leader and Recorder: Paul F Hamlyn
Moore Nature Reserve is situated between the River Mersey and the Manchester Ship Canal just south of Warrington. The 186-acre reserve is divided by a section of the Runcorn-Latchford canal now dried out. The damp bed of the old canal at the north end of the reserve provides a good habitat for birch and willow together with fungi associated with these trees however further along the canopy has been opened up as a deliberate management policy. The construction of the Manchester Ship Canal in the 1890s left a considerable area of sand dredgings on the west side of the reserve now colonised with short rabbit grazed grassland, gorse bushes and small areas of birch woodland. More recent sand extraction works have led to the creation of a number of lakes and pools, with their associated vegetation. Trying to keep Himalayan balsam (Impatiens glandulifera) under control is a problem in some parts of the reserve. The reserve is managed by two Wardens employed by Waste Recycling Group Ltd.
In 2003 I was asked by the Wardens to lead a fungi walk for members of the public and was struck by the different habitats at the reserve and relatively large numbers of fungi present on the day. For example, there were massive numbers of the Bearded Milkcap, Lactarius pubescens growing with birch on the west side of the reserve. This species is paler than the Woolly Milkcap Lactarius tomentosus also found with birch with which it is sometimes confused. In nature, fungi like Lactarius pubescens colonise the roots of new trees mainly through vegetative growth from the mycorrhizal mycelium of a nearby tree so it is perhaps not surprising that a single species had colonised such a large area. The next year we held a Group foray for beginners and other members in July and with the help of the nine experienced members who turned up were able to compile a species list of 103. By comparison when I visited the reserve with Rita Cook in July 2005 following a period of very dry weather there was nothing to be found, not even a solitary bracket. This was something of a disappointment since we hoped to find some specimens to display on the BMS stand at the Tatton Flower Show. However, following a rainy spell the Group foray for beginners held in September 2005 was much more successful. On 1 October 2006 myself and Ken Burgess together with 10 members of the public managed to find ten species that had not previously been recorded at Moore. These included Calvatia gigantea (not easily missed), Hypomyces lactifluorum growing on Lactarius pubescens and the rarely reported (only 55 records in the Fungal Records Database) Dichomitus campestris confirmed by Ken after some painstaking microscopic work. Hypomyces lactifluorum grows on Russula or Lactarius species covering the mushrooms with a hard bright orange crust. In America the parasitized fruit bodies are known as 'Lobster Mushrooms' and are actually sold (in the dried form) as an edible mushroom. Hypomyces lactifluorum is said to greatly improve the flavour of the host mushroom but I did not put this to the test.
Some species are very common at the reserve being found on most forays. These include puffballs such as Bovista plumbea found in large numbers on the rabbit grazed grassland areas together with Omphalina pyxidata a species whose preferred habitat is with grass growing on sandy soils. Common mycorrhizal species include L. pubescens mentioned previously. In the wooded area of the old canal bed Amanita muscaria and Paxillus involutus are to be found in relatively large numbers growing with birch and on two occasions the rare yellow/orange variant Amanita muscaria var. formosa was also recorded. Cortinarius species have also been found at this location including Cortinarius decipiens growing with willow.
John Taylor has confirmed that there are no previous North West Fungus Group records for the reserve. However there are records for fungi on the 'Complete Species List (up to 15/05/2001)' compiled for the reserve by Steve McWilliam and these can be found on the Moore Nature Reserve website. The records include L. tomentosus but not L. pubescens although as mentioned earlier these two species are sometimes confused with each other. There is also a photograph of the earthstar Geastrum triplex found at the reserve in 2001 on the 'rECOrd' website at . McWilliam's records include the waxcaps Hygrocybe coccinea, Hygrocybe conica, Hygrocybe nigrescens (some authors now consider this to be H. conica), Hygrocybe nivea, Hygrocybe pratensis and Hygrocybe unguinosa. To date we have only found Hygrocybe conica and Hygrocybe psittacina and the Group has yet to record an earthstar. Clearly there is the potential to obtain many more records at this site.
Further details about the reserve and a location map are given here.
Paul F Hamlyn
Date of Foray
05 October 2003 - view foray report
18 July 2004 - view foray report
03 October 2004 - view foray report
17 July 2005 - due to very dry conditions no fungi were recorded
01 October 2006 - view foray report
Species List
Click here for the complete species list.