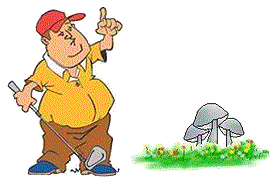 Friday 1st January
Happy New Year. I went for a walk to clear my head and found some fungi. Tubaria hiemalis (Winter Twiglet) and Psathyrella microrrhiza (Rootlet Brittlestem). Log rolling was productive with finds of Bisporella citrina (Lemon Disco), Skeletocutis nivea and I finally found Ascocoryne cylichnium (the other Purple Jellydisc) on an old stump. Despite the weather, it is still worth looking although you have to look a bit harder.
Sunday 17th January
At last the snow has gone. My first walk (foray) for fourteen days. Lots of Trametes and Stereum but still a few gilled fungi hanging on. Crepidotus cesatii (Oysterling), Mycena letocephala (Nitrous Bonnet) and Mycena galericulata (Common Bonnet). Also the expected Flammulina velutipes (Velvet Shank). They are still out there.
Monday 25th January
Back to golf at last. Nothing much around except for a small dead birch that has turned into a spectacular Oyster Mushroom tree and a few Flaummulina velutipes (Velvet Shank). I noted that the Corpy have just mulched all the flowerbeds on the Promenade with woodchip. This will be worth a few visits during the year.
Wednesday 27th January
Golf again today. I collected a small orange fungus from the woodchip in a shrubbery, believing it would be Tubaria hiemalis (Winter Twiglet). To my surprise, it gave a red-brown spore print and turned out to be Galerina vittiformis (Hairy Leg Bell). You just never know!
Sunday 8th February
Nothing on the golf course so I went back to the woodchip on The Promenade. Saw some Tubaria hiemalis (Winter twiglet) and Flammulina velutipes (Velvet Shank). I also noticed a large bracket on a cut down cherry tree on a roundabout. Unfortunately, as it was a nice day, everyman and his dog was out for a walk so it was difficult to have close look at it.
Monday 9th February
Cloudy and freezing cold. Just the right conditions to skulk around in the bushes on a roundabout. It is a large (10 to 12 inches long) lumpy fungus, pinkish. I think it is Phellinus pomaceus (Cushion Bracket) which grows on cherry trees. It is solid and I could not find any clues in the small piece I was able to cut off.
Friday 12th February
I had a look at a wood I had not been in before only because I could not find an entry point. Fortunately a local inhabitant showed me the hidden path. It is at Hale on the banks of the Mersey. It is not maintained so the trees are in poor condition (good fungus fodder). There are a couple of spots of unwelcome human intrusion and it is smothered with Rhododendron, so I may need a machete. Nevertheless, I managed to find Resupinatus applicatus (Smoked Oysterling) under a log and a large Melanoleuca which could be cognata or strictipes. Whichever, Spring is coming.
Wednesday 24th February
Snow and Ice. The golf course is closed. However, I did manage to get some digging done at my allotment. Despite the weather, on some woodchip which someone had put round his rhubarb, there were dozens of fresh Tubaria (Twiglet) sprouting. Now we get technical. Were they Scurfy Twiglets or Winter Twiglets? Only microscopic examination can tell. Looking at the gill edge there was no sign of any of the round headed structures (cystidia)needed for a Winter Twiglet. So I have to conclude that they are Tubaria furfuracea (Scurfy Twiglet). Personally, I do not believe they are seperate species. At least there was something growing at this time of year.
Thursday 25th February
Today I went on a computer course about Google Earth which was held by Mersyside BioBank at the Wlidflower Centre. I can pinpoint my finds on a map and send them to people. I can plot foray routes and send the directions to others. I can do all sorts of things but I cannot get the golf course to open.
Saturday 27th February
I went to the Annual General Meeting at Risley Moss. A very good turnout and excellent lunch. After the meeting, we went to see if any Caloscypha fulgens had fruited since last year but there was no sign. We did find Sarcoscypha austriaca (Scarlet Elf Cup), Daedalea quercina (Mazegill) and some small Mycena (Bonnets) amongst the stacks of logs.
Monday 1st March
The first day of Spring. The sun is shining. The golf course is open. But no fungi.So I went for an afternoon walk around the local parks. Disaster. The Council have bought a woodchip machine and all the logs and fallen trees have been removed and chipped. The area where I found the Geastrum striatum (Striate Earthstar) has been cleared out. Why does all the dead tree matter have to be cleaned up? The only thing that save my day was a small group of Sarcoscypha austriaca (Scarlet Elf Cup). The first I have ever found in this area.
Tuesday 2nd March
I received some records from BioBank Merseyside and noted that Fomes fomentarius (Hoof Fungus) was reported from a nearby cricket ground. So, I had to have a look. I found what appeared to be a very old cherry tree with a huge bracket at the very top. Too high to see clearly. It could be a Fomes or it could be a Phellinus. Frustratingly, I shall have to wait until it falls down.
Sunday 7th March
I wanted to go to the foray at Werneth Low but my builder overran and it is dangerous to leave a builder to his own devices. And he had to be paid. I took the opportunity to pop up to Freshfield instead to see if I could find any of the Alder fungi mentioned in the Field Mycology magazine. Inonotus radiatus (Alder Bracket) was there. Also some of last year's Taphrina alni (Alder ongue), little black tongues sticking out of the old cones. Quite a lot of resupinates but I have not yet been able to get a decent microscopic sample to tell if any of it is Peniphora reidii.
Saturday 13th March
Had to travel up to Northumberland on family business. Stayed at a lovely hotel surrounded by mature woodland, mainly oak. The weather was cold and dry. I did not see a fungus of any description, not a bracket nor a resupinate despite the numerous fallen trees and branches. Too cold and dry!
Monday 15th March
Mrs. MykoGolfer's sage bush was on it's last legs, so I was instructed to dig it up. The older branches and thick stems were covered in what looked like Hyphodontia sambuci (Whitewash Fungus). Under the microscope, the spores, cystidia and hyphae, with clamps and crystal encrustations, fitted perfectly. An unusual host plant.
Thursday 25th March
After planting my potatoes this morning, I decided a short walk was necessary to straighten out my back. Another Geastrum. This time G. triplex (Collared Earthstar) very close to where I found the Striate Earthstar in December. Also lots of Pleurotus pulmonarius (Pale Oyster) on a felled beech. This is distinguished from the larger common oyster mushroom by it's pale yellow colour, lung shape and slightly larger spores. I also found a Myxomycete. Even though I went on a training course with Professor Bruce Ing, I am embarrassed to say that I only think? it is a Badhamia.
Tuesday 30th March
I was invited to the offices of RECORD at Chester Zoo who were giving a presentation on recording systems. They currently use RODIS (RECORD online data input system) which can used by anyone who wishes to enter a record on the system. It has maps as well. Very interesting.
Thursday 1st April
I refused to be defeated and had to go back for some more of the myxomycete I found last week. I spent most of the day on it but finally reached the conclusion that it was Badhamia macrocarpa. In the course of my research, I used the Internet and found some excellent photographs of this and many other myxomycetes, which I could match with the diagrams in Professor Ing's book.
Friday 2nd April
At last it has stopped raining. I decided to have a look at Stockton's Wood, beside Speke Hall, now taken over by National Trust. It was cold and windy. Nothing was growing in the wood, which is normally a jungle. There was a large fallen tree covered with Pleurotus ostreatus (Oyster Mushroom). Everything else was underground. The only two I successfully identified were Myocacia uda and Phellinus ferruginosus (Rusty Porecrust).
Sunday 4th April
Today I visited Croxteth Country Park in Liverpool. Once the family home of the Molyneux family, Earls of Sefton. Then Liverpool Council bought it. It is 40 years since I last visited, when kingfishers still inhabited the ornamental ponds. It is a bit too plastic bottle, beer can and doggy for my liking BUT there is a lot of woodland and it was easy to find specimens. There was a good collection of Coprinus micaceus (Glistening Inkcap). The most common fungi were Kretzschmaria deusta (Brittle Cinder) and Exidia glandulosa (Witches Butter). I shall return.
Tuesday 6th April
Went back for another look at the Fishermans Path side of Ainsdale. Not much new from last time. Found Melanoleuca cognata (Spring Cavalier) and Polyporus leptocephalus (Balckfoot Polypore). I tried a new path. 2 miles and 40 minutes later I ended up at the red squirrel reserve. It was a long walk back. Must take a better map next time.
Thursday 8th April
MykoGolfer went to Aintree Races. What a beautiful day. Hope it keeps up until Sunday. The only fungus recorded was the yeast in my beer and sandwiches. I could not help thinking that, with all that grass and all those horses, it must have potential as a foray site later on in the year.
Sunday 11th April
North West Fungus Group at Ainsdale today. I was leader - because I am the only one who knows how to get round. Nine of us started from Fresfield Station on a beautiful sunny day. As usual, we were not let down by this site with more new species. Amongst the finds were Auricscalpium vulgare (Earpick Fungus) on a pine cone. One the reasons for starting from Freshfield is because it is easier to reach the slack areas behind the sand dunes where many years ago hundreds of Morels would grow. Then they cut the trees down and they all but disappeared. But today we found one, Morchella vulgaris (Black Morel). Also a large group of Discina (Pig' Ears). The star of the day was a tiny cup fungus growing on the seeds of old hawthorn berries, Monilinia johnsonii. Two of the group had been searching for this fungus for years. A good day all round.
Monday 12th April
Back to the mundane. On an old tree at the allotment site was growing a very young Polyporus squamosus (Dryad's Saddle). Things are starting to improve.
Thursday 15th April
One of the fungi found on Sunday has been identified as an Hohenbuehelia. (Please do not ask me to spell it again). Unfortunately, the sample taken was past it's best and could not be identified accurately. So, I went back but could not find any more. I also went to the Rangers' office to look for the Gyromitra esculenta (False Morel). Again no luck. However, the day was not wasted as I continued on to Marshside, where I watch 30 or more flirting Avocets. Beautiful.
Wednesday 21st April
Golf today. Not much around. Only Coprinus micaceus (Glistening Inkcap) on an old stump.
Thursday 22nd April
I am still working on the specimens from Ainsdale. The final list will be on the website very soon. I still had time for golf, this time at Woolton Golf Course. Still very dry. The only thing I saw was some Trametes hirsuta on a Weeping Willow.
Friday 23rd April
Back on the golf course again. This time at Leigh Golf Course near Culcheth. As I was fishing my ball out of a ditch, I noticed that the Oak tree I was hanging on to was sporting two large, elderly Ganoderma resinaceum (Lacquered Bracket). Two good finds at the same time. I eventually won at golf as well.
Wednesday 5th May
I played my first golf competition round of the year. Not very good today. However at the back of the 9th tee there was a very large group, at least fifty, of Calocybe gambosa (St.Georges Mushroom). A new site for this species on the golf course. They are said to be edible but they are not to my taste.
Friday 7th May
More Calocybe gambosa (St. George's Mushroom) at one of my local parks, this time very good specimens. So I picked some for the pot. I have this recipe with cream and coriander which I try every year. To me they still taste of plastic. MykoGolfer is off to Sicily tomorrow. Hopefully to taste some porcini.
Monday 17th May
I have returned from my holiday in Sicily. My only contact with fungi was a Risotto ai Funghi Porcini and very nice it was. I saw a pizza restaurant named L' Amanitas. Sounds very interesting. I also learned that the slopes of Mount Etna are awash with mushrooms but you have to get a licence to pick as it is a National Park. You have to pass an exam in identification so as not to poison people.
Monday 24th May
Despite this hot and dry weather, my golf club produced three Amanita rubescens (The Blusher) this morning. This species grows in profusion every year but this is the earliest date I have recorded it there since I started in 1995. Even more interesting was a group of Neolentinus lepideus growing from the wooden surrounds of one of the teeing areas. This is now called 'Scaly Sawgill' but is better known as 'The Train Wrecker'. It likes treated wood, including creosote, and was the cause of rotting in railway sleepers and telegraph poles.
Monday 7th June
Despite the rain of last week things are slow to move. I did find some Coprinopsis lagopus (Hares'foot Inkcap) and some Lycoperdon perlatum (Common Puffball) on the golf course but nothing else.
Wednesday 9th June
Passing some old Yew trees in a local park I noticed a pale coloured encrustation on the trunk. It turned out to be Amylostereum laevigatum. It is said to be common but this is the first time I have noticed. Must be more observant in future. A friend sent me some photographs to identify. They were of a most beautiful Laetiporus sulphureus (Chicken of the Woods) on Alder. This fungus does not seem to mind dry conditions.
Monday 14th June
A very wet weekend seems to have started a few fungi off. The golf course produced half a dozen Agaricus arvensis (Horse Mushroom) with their pleasant sweet almond smell. Also a nice group of Psathyrella candolleana (Pale Brittlestem). A fallen branch displayed a nice group of grey-black Peniophora limitata. This does not yet have an English name. As it grows almost exclusively on Ash, I suggest Ash Crust.
Tuesday 22nd June
No recent sightings although this warm dry weather is encouraging rusts and moulds on the leaves of fruit bushes and vegetables. Under a microscope thay are beautiful to look at. On my raspberries, I am not convinced.
Wednesday 23rd June
Despite the hot weather, a few Vascellum pratense (Meadow Puffball) appeared in the very short grass on one of the teeing areas at the golf course.
Saturday 26th June
I went to a conference held by the British Mycological Society at Alston Hall near Longridge in Lancashire. It had a lovely woodland walk and despite the dry conditions, I managed to find Pleurotus cornucopiae (Branching Oyster), Coprinopsis lagopus (Haresfoot Inkcap), Conocybe apala (Milky Conecap) on the lawn and an unusual Russula (Brittlegill), which I have not yet identified. It was very dry which makes it difficult to interpret some of the chemical and microscopic tests. I shall keep trying.
Monday 28th June
We are nearing drought conditions so I was surprised to see two large Xerula radicata (Rooting Shank) poking out around an old Sycamore stump. This fungus is new for the golf course, now at number 376.
Friday 2nd July
I do not play golf all of the time. Today, I was picking my Ribes Nigrum (Blackcurrants to you). I prune as I pick. Two dead branches were showing a tiny black fungus erupting from the bark. From my books on these Ascomycetes, I reached the conclusion that it was Dothiora ribesia. Not very exciting to look at but there is nothing else.
Saturday 3rd July
Big golf competition today. No fungi. Brilliant golf. Still failed to win! However the Greenkeeper has been busy clearing thick undergrowth from an area of Birch trees which lies between two patches where I find Boletus edulis (Cep). I wait with much anticipation.
Sunday 11th July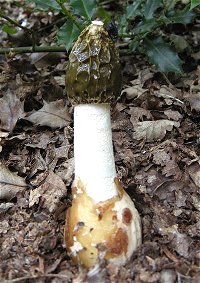 I went on a foray with the North Fungus Group to Rivington in Lancashire. Although the conditions are still dry, we managed to find a few damp spots. Not many large gilled fungi as you would expect. We found Russula parazurea (Powdery Brittlegill), Mycena pura (Lilac Bonnet) and Hypholma fasciculare (Sulphur Tuft). Also a very fresh Phallus impudicus (Stinkhorn) which the flies stripped inside an hour. We spent a lot of time under logs which produced a hoard of small ascomycetes such as Orbilia (Glasscup) and Mollisia cinerea (Grey Disco). Because it was dry we also found a good number of myxomycetes (Slime Moulds). They tend to wash off when it rains. Despite their common name, they only start as slime but then develop into the most fascinating shapes and colours which require specilist study to identify them. You can find some excellent photographs on the Internet.
Friday 16 July
Played golf at Haydock today. despite the overnight rain, nothing was showing. My only find was the myxomycete (Slime Mould), Lycogala terrestre, showing pink fruiting bodies on an old tree trunk.
Monday 19 July
More golf, this time at my own club. Despite even more heavy rain and almost tropical heat, the only thing I found was a lone Mycena filopes (Iodine Bonnet), usually very common in the leaf litter.
Wednesday 21st July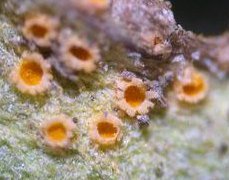 Played golf but we were washed out again. The streets of Liverpool flooded with one month's amount of rain in one hour. Then the sun came out just to laugh. I managed to find Panaeolina foenisecii (Brown Mottlegill) with its distinct warty spores on the path at my allotment. Also the pretty ascomycete, Puccinia lagenophorae, a rust on groundsel.
Saturday 24th July
Last Tuesday, I was walking through my local golf course. We had just experienced severe rain and I thought something might have grown. I passed a line of cut tree trunks, placed to demarcate a path. At the base of one of the trunks was a whitish bracket which I thought would be a Trametes. Examination showed it was a toothed fungus. I have only now managed to confirm that it is Hericium cirrhatum (Tiered Tooth) which is rare. The tree was covered with Bjerkandera adusta (Smoky Bracket), so I assume it was Fagus (Beech).
Monday 26th July
As it had eventually stopped raining, I took my grandsons for a walk to Croxteth Hall Country Park. Nothing much around except some more Panaeolina foenisecii (Brown Mottlegill) and Hypholoma fasciculare (Sulphur Tuft).
Tuesday 27th July
Back to the allotment, on a grassy path, I thought I had found some more Brown Mottlegills. They turned out to be Panaeolus olivaceus. They are very similar except the spores are only very finely rough, not warty.
Wednesday 28 July
I have been in contact with Dr. Brian Spooner at Kew Herbarium. He wanted me to send him a specimen of the Hericium cirrhatum (Tiered Tooth). I have had to tell him that, overnight, it turned into a brown mush full of maggots.
Tuesday 3rd August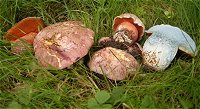 Just returned from a weekend on Russula (Brittlegill) identification. The tutor was Geoffrey Kibby, who wrote the book on this subject. We went foraying each morning for Russulas and spent the rest of the day looking at them with a microscope to see if we could identify them. We managed to identify twelve different species including a rare Russula vinospurpurea. Hopefully I am now an expert on Russula. I shall soon find out. We spent one morning at Chirk Castle where the fungi we found were quite spectacular and included Boletus legaliae, Boletus albidus and Cantharellus amethysteus (Amethyst Chanterelle).
Wednesday 4th August
Just by the main gates to my allotment, growing out of the hard roadway was an Agaric which turned out be Agaricus capellianus (ex vaporarius). A dirty looking thing.
Saturday 7th August
Went to see how my Hericium cirrhatum (Tiered Tooth) is progressing. It isn't. It is nearly gone. If I did not know what it was, I would walk straight past it. Nothing like the photos in the books. Lots of other fungi about. Two nice Chlorophylum rhacodes (Shaggy Parasol), Scleroderma verrucosum (Scaly Earthball) with it's strange stem, Inocybe rimosa (Split Fibrecap) and another microscopically different Inocybe that I can not identify. Also some Russulas (Brittlegills) and Boletes of the old Xerocomus family, which I took home to see if I learnt anything on my course.
Sunday 8th August
This morning I struggled with the Xerocomus using a synoptic key. Too many variations. I managed to identify Boletus cisalpinus and B.submentosus (Suede Bolete). I fared much better with the Russulas (Brittlegills) and managed to identify R. amoenolens (Camembert Brittlegill) and R. ionochlora (Oilslick Brittlegill). It is a bit awkward having to play with chemicals, particularly sulphuric acid but I did not burn anything. However, one specimen still remains a mystery.I was warned that I would fail with at least 20% of specimens and so I did.
Monday 9th August
Played golf this morning. Today was Amanita rubescens Day (The Blusher). There were hundreds of them. Every Birch tree seemed to have one. I have never seen so many and so large in one place. Both of the Larch copses had lots of Suillus grevillei (Larch Bolete). They are edible but by the time you take of the sticky cap and the pores, there is not much left. I found Leccinum scabrum (Brown Birch Bolete) and L. duriusculum (Slate Bolete) under the Aspen. Russula ochroleuca (Ochre Brittlegill) were aplenty and R. nitida (Purple Swamp Brittlegill). All of these appear in great quantity on the course every year so in future I shall refer to them as 'the usual'.
Wednesday 11th August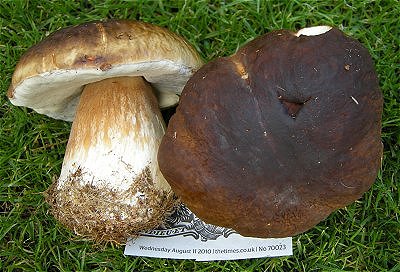 Golf today. There they were. Two Boletus edulis (Penny Bun) under my favourite birch tree. I have included the date because somebody wrote saying they did not believe that I could find these on my golf course. I was shocked.
Thursday 12th August
Driving down the dual carriageway I saw a Grifola frondosa growing from the central reservation. I had to check but you feel a bit exposed checking fungus in the middle of a main road. There were also some small Inocybes which I hopefully identified as Inocybe fuscidula. Under the microscope they had smooth spores and cystidia which were encrusted, like little hats on the top. This narrrowed the choices down a lot.
Friday 13th August
In my local park, I found Agaricus langei (Scaly Wood Mushroom) under a Monkey Puzzle Tree. A curious association. I can also proudly announce that I identified Russula velenovskyi (Coral Brittlegill) using my recent training. Also Russula cyanoxantha (Charcoal Burner) but that was fairly easier as it is robust and even the gills are flexible. Not very brittle at all.
Saturday 14th August
Found an interesting one this morning. A large, dirty yellow Russula (Brittlegill), which had a strange smell. I found that I had a choice between Russula foetens (Stinking Brittlegill) and R. subfoetens (Stinking Brittlegill No 2). The only major difference between them is that on No 2 the stem stains yellow with potassium hydroxide. It did. so Part 2 wins the day. I may send this to Kew when dried (if they want it). There were a dozen Calvatia gigantea (Giant Puffball) in my local park but by the time I got my camera out of the car some 'small person' had kicked them over. A friend found one on the golf course last week and threw it towards an opponent as he was playing his shot and it exploded. So, I am told, did his opponent.
Wednesday 18th August
I found half a dozen Calvatia gigantea (Giant Puffball) on my golf course. I have never eaten one as I have never before found one in good condition. So, I fried a piece in oil and put another piece under the grill. I was not impressed with either. In addition to 'the usual', I found some young Russula nigricans (Blackening Russula) under an oak. Not yet black, one had a totally red stem as if it was bleeding.
Friday 20th August
On Monday I picked up a couple of Amanitas that I assumed would be Amanita rubescens (Blusher) which grows everywhere at the moment. The cap looked like a Blusher but the stem and ring were yellowish. I could not decide. So I went back this morning and picked a couple more, a bit younger this time. Definitely yellow. The conclusion is Amanita franchetii. There were thirty or so growing under some mature trees in the middle of a dual carriageway of a modern council housing estate. Where else would you foray?
Sunday 22nd August
I went to Mere Sands Wood Nature Reserve today as I am leading a foray there in a couple of weeks. I have not been there for some years so needed to make sure I could still find my way around and not lose anyone. I tried hard not to collect but failed. Most interesting was finding four species of Helvella, H. crispa (White Saddle), H. lacunosa (Elfin Saddle), H. macropus (Felt Saddle) and the rarer H. atra. Other notable finds were Lactarius pubescens (Bearded Milkcap) and Clitocybe odora (Aniseed Funnel).
Monday 23rd August
A very wet golf course this morning. Because of a competition on Sunday, the mowers had removed all the usual fungi, with a few odd ones left standing. First Amanita muscaria (Fly Agaric) of the year and a very large Leccinum verrsipelle (Orange Birch Bolete). Also Inocybe rimosa (Split Fibrecap) with its splitting cap and smooth spores.
Tuesday 24th August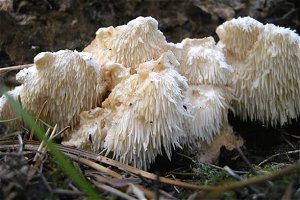 There seems to be fungi all over the place. All the central reservations have things growing but it is not possible to stop and pick. I went up to see how my Hericium cirrhatum (Tiered Tooth) was doing. It is blooming. My favourite Beech tree produced at least five different Russulas. I shall let you know when I have identified them all.
Wednesday 25th August
I identified the Russulas as R. grisea (Oilslick Brittlegill), R. fellea (Geranium Brittlegill), R. nobilis (Beechwood Sickener) and R. cyanoxantha (Charcoal Burner). This was the dark green one sometimes known as variety pelteraui. The fifth one turned out to be a Lactarius blennius (Beech Milkcap). A good Beech tree for fungus.
Friday 27th August
The golf course was a little bare today. Fortunately my opponent smacked his golf ball into a rarely visited copse in which I discovered a number of Amanita excelsa variety spissa (Grey Spotted Amanita). It smells strongly of radish. Also a group of Agrocybe praecox (Spring Fieldcap). I have been struggling all week with a specimen found on my allotment. It has a very long rooting stem. I have concluded that it is a well fed Agrocybe pediades (Common Fieldcap).
Tuesday 31st August
A couple of days of hot weather and the fungi seem to have gone into hiding. My favourite Beech tree had nothing to offer. I found some old Chlorophyllum rhacodes (Shaggy Parasol), Russula atropupurea (Purple Brittlegill) and the red Myxomycete Tubifera ferruginosa. Also Helvella lacunosa (Elfin Saddle). My Hericium (Tiered Tooth) is looking a bit dry as well.
Wednesday 1st September
It was uncomfortably hot playing golf today. Not much around except for another Boletus edulis (Penny Bun) which is destined for breakfast. Also a Clitopilus prunulus (The Miller). Although this is said to be edible, I always suspect it to be a Clitocybe (Funnel) and by the time I have finished taking it apart in order to identify it, there is nothing left to eat.
Friday 3rd September
Played golf again today. Still liitle about. I found a Chalciporus piperatus, aptly named (Peppery Bolete) and a lot of Lactarius quietus (Oak Milkcap).
Sunday 5th September
Led the NWFG foray at Mere Sands near Rufford. A large group of beginners from a local naturalist group also joined in so we had a lot of eyes to look. One of the wardens also came with us and we were able to get into some of the areas not open to the public. Still lots in pots to identify but so far - Leccinum holopus (Ghost Bolete), Laccaria proxima (Scurfy Deceiver) and amethystina (Amethyst Deceiver). Lots of Phallus impudicus (Stinkhorn) 'eggs'. They are said to be edible but not for me. One of our members excavated quite a lot of the truffle, Elaphomyces granulatus (False Truffle), by digging where the animals had scraped away under some beeches. Even though it has been dry, I recorded over 60 species on the day.
Wedenesday 8th September
Played golf at a new course today. Very dry despite the heavy rain on Monday. Only Russula atropurpurea (Purple Brittlegill} under the trees. Very disappointing.
Friday 10th September
A bit disappointing on the golf course today. Only a few Leccinum versipelle (Orange Birch Bolete) and Russula betularum (Birch Brittlegill). I tested the latter by putting a piece on my tongue. Ouch, it was acrid. Do not try this at home. I am off on holiday so I hope things improve when I get back.
Saturday 11th September
Not gone yet. Went to make sure my tomatoes were watered before going away and found a beautiful Volvariella gloiocephala (Stubble Rosegill) growing on the path. First for my allotment.
Saturday 18th September
The wonder of the Internet. I am in Vienna. I have just explained to a German family how to identify Agaricus xanthoderma (Yellow Stainer). Not easy as ich spreche nicht Deutsch. Their young kinder was picking them in the woods while they collected them in a bag. Peace in our time. A bookshop in Prague keeps all their fungus books in a locked glass case. The locals 'borrow' them at this time of year. See you soon.
Friday 24th September
Back from holiday, back to the golf course. There were lots of fungi about after all the rain. Amanita muscaria (Fly Agaric) has started in earnest. There were dozens of Clitopilus prunulus (the Miller) about, a fungus I have only occasionally found. Six different Boletes including Leccinum variicolor (Mottled Bolete) with its streaked cap and another Boletus edulis (Penny Bun). Aleuria aurantia (Orange Peel) made an appearance. I also managed to pick a large insect free Agaricus arvensis (Horse Mushroom) for breakfast.
Saturday 25th September
I have been looking at my finds from Friday under my microscope. I managed to pick three different Hebelomas. H. mesophaeum (Veiled Poisonpie) has a distinctive cap but the other two look the same. One of the main differences is whether the spores turn brown (dextroid)when chemicals are added to them. One did. One did not. H. sinapizans (Bitter Poisonpie) did. H. crustiliniforme (Poisonpie) did not.
Monday 27th September
Golf this morning. This is not a good time for looking for fungus because the mowers are out after being idle over the weekend. They cut everything so there was not much left for me. All was not lost however as ony of my opponents hit his ball into a spot I have rarely visited. Three Boletus edulis (Penny Bun) under the birches. Yippee.
Tuesday 28th September
As the weather was nice, I had to go allotmenteering today. On one of the main paths were growing some Boletus pruinatus (Matt Bolete). I also found the myxomycete Mucilago crustacea which had spread from my Loganberry bush to the surrounding grass. Looks like the fox had been sick. I went to check on my Tubaria dispersa which obviously now prefers Cotoneaster to its usual host plant, Hawthorn.
Thursday 30th September
No golf. Too much rain. Had to go to my allotment for vegetables for tea and because the paths have not been cut, fungi are growing. Mycena leptocephala was growing on the path beneath some Cupressus. Also, an unusual Agaricus dulcidulus (Rosy Wood Mushroom) growing in the grass. It has very small spores.
Sunday 3rd October
It stopped raining long enough for me to go to the local golf course. The rain keeps the mowers inactive and the fungi are allowed to grow. Boletus badius (Bay Bolete), Russula delica (Milk White Brittlegill), Lycoperdon excipuliformis (Pestle Puffball), Clavulina rugosa (Wrinkled Club), Lepista flaccida (Tawny Funnel), Parasola conopilus (Conical Brittlestem) and Inocybe rimosa (Split Fibrecap). And a bag of specimens to look at under the microscope if I get the time.
Monday 4th October
Just finished yesterday's collection. A new Russula for the site, Russula farinipes. No English name yet. Back to golf this morning. After all the rain, the course was sprouting fungi everywhere. Hundreds of Amanita muscaria (Fly Agaric) making a really colourful sight. I picked five Boletus edulis (Penny Bun) and had to leave five more because they were too old. I have never seen so many. I think it must be to do with the age of the Birch trees. Lots of 'the usual'. A new one for the course was Otidea bufonia (Toad's Ear). Also an almost black Leccinum which, a few years ago would have been Leccinum melaneum but is now included as L. scabrum (Birch Bolete).
Thursday 7th October
Been to Whitley Bay in Northumberland. It was cold. Not a fungus in sight. A strange fungus I found on my allotment site (see 27th August) remains unidentified. We thought it might be Agrocybe arvalis but we could not find the necessary microscopic features. I sent my dried specimens to Kew but they can not identify it either. A bit of a mystery but it does show that anyone might find something new in the most unlikely place. I can not think of a better advert to encourage people to take an interest in fungi. You just never know.
Sunday 10th October
I attended the North West Fungus Group foray at Moore Nature Reserve in Cheshire. An interesting site created from the spoil heaps dredged from the River Mersey during the building of The Manchester Ship Canal. It is therefore a sandy heath. A very good and varied collection was made, including Lycoperdon gigantea (Giant Pufball), Chlorophyllum rhacodes (Shaggy Parasol), the star of the day being Daldinia fissa, a crampball which was growing on burnt gorse. A new one for me. Lots of pots. I hope I can get round to them all.
Monday 11th October
Back to the golf course where even more Boletus edulis (Penny Bun) are growing. I had to buy some new trays so that I can dry them all. All the Bolete species are growing well. Usually, by this time of the year, I expect Leccinum duriusculum (Slate Bolete) to have finished but it is still prospering.
Tuesday 12th October
As I am leading a foray at Carr Mill Dam on Sunday so I went to check out the route. Do not want to lose anyone. Very cold overnight. I did not find much but I was not looking very hard. Lots of Helvella crispa (White Saddle) and a Tricholoma, probably T. ustale (Burnt Knight) but it needs checking properly. Also Tricholoma scalpturatum (Yellowing Knight). I am sure a few more eyes will find lots more.
Wednesday 13th October
Two mornings of low temperatures has really affected the fungi. A lot of the abundant specimens on the golf course have collapsed. The presence of Aleuria aurantia (Orange Peel Fungus) and Hygrocybe virginea (Snowy Waxcap) suggests that winter is almost here. Ampulloclitocybe clavipes (Club Foot) made an appearance.
Sunday 17th October
We had good sunny weather at Carr Mill. Unfortunately, the previous dry cold weather seemed to have sent the fungi into hiding and we had to search hard. Nevertheless, they eventually turned up and I have 58 so far recorded. We did not find the Lanzia on the Turkey oak this time, which was disappointing. The cupules were all very dry. There were large numbers of Helvella crispa. I have identified Tarzetta catinus and Hebeloma sinapizans (Bitter Poison Pie). We had four different Amanitas, muscaria (Fly Agaric), rubescens (Blusher), fulva (Tawny Grisette) and excelsa variety spissa (Grey Spotted Amanita).
Tuesday 19th October
At last I am coming to the end of the boxed collection from Sunday. I managed to identify a tiny pinsized Mycena as M. coryneophora. It is very hairy but differs from Mycena adscendens (Frosty Bonnet) because it has a basidia with four spores and not two. A similar sized Marasmius, a pinhead on a hair, was Marasmius setosus. Both are said to be 'not often recorded'. I am not surprised. I do not know how we managed to find them.
Wednesday 20th October
Frosty morning before golf this afternoon. Surprisingly the fungi have held up well. A good find of Boletus badius (Bay Bolete) under Birch. Not unknown but unusual. Last found on this spot in 1994 which means it has been there all that time just waiting for me to find it again.
Saturday 23rd October
I was invited by the Liverpool Botanical Society to join them on a visit to Freshfield Dune Heath Reserve, which I have never visited before, and then to Fishermans Path on the Ainsdale Sand Dunes Reserve. I was overwhelmed by the number and variety of fungi. I thought I would learn about flowers and plants but the flower people were more interested in fungi. I managed to identify fifty fungi. They identified fifty plants. Not bad for late October. We found six Russula, Collybia fusipes, Inocybe geophylla and variety lilacina. The area was at its best.
Sunday 24th October
Today I led a public foray for the Ainsdale rangers. Twenty five turned up on a frosty morning. Interesting fungi were a bit thin on the ground but we managed to find Cordyceps militaris (Scarlet Caterpillarclub) and Psilocybe cyanescens (Blueleg Brownie). The latter failed to grow in my greenhouse this year. A good find for me was Ischnoderma benzoinum (Benzoin Bracket) on a stump. What was interesting was the difference between the the two sides of the Ainsdale reserve. Today we struggled. Yesterday, half a mile away, we were in fungi heaven.
Tuesday 26th October
I have finished looking at the stuff I collected over the weekend. Interesting ones are Tricholoma imbricatum (Matt Knight), which had a very long stem and Cortinarius alnetorum from the Alder carr. One that foxed me at the time, a huge fairy ring, turned out to be Lepista irina (Flowery Blewit). Unfortunately, I managed to catch a cold, so no golf.
Saturday 30th October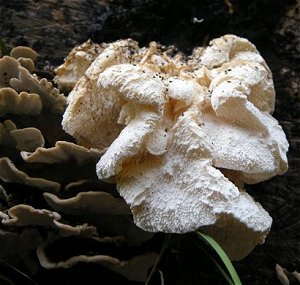 Not feeling too bright today after a 'Boys Day Out' at Wetherby Races yesterday and I have not got rid of my cold. The sun came out so I went to Speke Hall for a walk. Not too much around but some interesting stuff. Looking at a fallen tree I found another Hericium cirrhatum. You wait for ages and two come along in the same year.
Monday 1st November
Still lots of Amanita muscaria (Fly Agaric) on the golf course, despite the colder weather. Nothing new around but I was very surprised to find two more Boletus edulis (Penny Bun). I thought their season was well past. A tiny Mycena I found at Speke Hall on Saturday was Mycena hiemalis. It is very tiny and grows in the moss at the base of trees, as does the more common Mycena olida (Rancid Bonnet). I could not smell anything on my specimens and they have microscopic differences.
Tuesday 2nd November
I checked up on my original find of Hericium cirrhatum (Tiered Tooth) only to find that it had fallen off. Very sad. The stump has been totally taken over by Honey Fungus. I did find three huge rings of Clitocybe nebularis (Clouded Agaric), Clitocybe odora (Aniseed Funnel) and Crepidotus versutus. Also Lepista flaccida (Tawny Funnel) which is very similar to Clitocybe gibba (Common Funnel) but which has round spiny spores. Microscope essential.
Wednesday 3rd November
A very wet golf course today was not conducive to collecting fungi. I did spot some Crepidotus mollis (Peeling Oysterling) growing down the side of a dead Aspen. First time I have found it on this site, making 375 different species so far. Not bad for a golf course. I also saw some Entoloma sericium (Silky Pinkgill) on the fairways, which have not been cut due to the poor weather.
Tuesday 9th November
I led the North West Fungus Group at Ainsdale on Sunday. It was a beautiful sunny day and we had a good attendance. It poured with rain on Monday so I was able to examine all the little boxes I brought back as it was too wet to play golf. The more interesting finds so far are Macrotyphula juncea (Slender Club) on reeds, Aarhenia retiruga, Crucibulum laeve (Common Birds Nest) growing on a pine cone, Pseudohydnum gelatinosum (Jelly Tooth) and a verylarge Otidia bufonia (Toads Ear). Eighty five species recorded so far. Three not previously recorded by me for the site.
Wednesday 10th November
Still lots of new growth on the golf course, especially Leccinum durusculum (Slate Bolete) under Aspen, which I usually find early in the year. Russula nigricans (Blackening Brittlegill) was present and an unusually high number of Lactarius turpis (Ugly Milkcap). What are missing so far this year are Hygorcybe (Waxcaps) and Mycena (Bonnets). These ususlly grow in profusion, especially on the backs of the sand bunkers, which are not cut as frequently as the fairways. I have only recorded Hygrocybe virginea (Snowy Waxcap). Where have they gone?
Monday 15th November
Cold and frosty morning for golf. Not much around to start with. There is a particular area which only produces fungi when winter starts. And so it did today. A line of trees of around the practice ground. Six different tree species and each one supports a different fungus. Today it was Clavulina rugosa (Wrinkled Club) under the oak and Cortinarius anomalus (Variable Webcap) under the birch.
Tuesday 16th November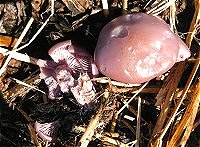 I weeded my rhubarb today. Growing from the old covering of straw and compost is a Lepista which I believe to be L. sordida. They are small, only 4 centimetres. When they were smaller, they were bright blue but have darkened with age. I confess that I have great difficulty separating this species from Lepista nuda. The more I read, he more confused I get.
Friday 19th November
It stopped raining for an hour or so, so I went for a quick walk round one of the local parks. I found a nice group of Clitocybe phyllophila (frosted Funnel). On the moss covered base of a tree, I noticed some very tiny brownish fungi. Mycena I thought. I took some samples home to look at under the microscope. The first one I examined matched Mycena mirata, new for me. Just to check, I examined another. To my surprise it was not a Mycena but a Galerina. I checked it again as I thought I had used a contaminated fluid. Definitely a Galerina, which I keyed out to G. hypnorum (Moss Bell). There must have been sufficient soil in the tree cracks to support it as I do not think it is normally found in such a situation.
Saturday 20th November
I needed a walk so I went to the old woods that once surrounded the now demolished Hale Hall. It is on the river bank of the Mersey, so very exposed and the wood has lots of fallen and damaged trees. Not a lot about but I was lucky to spot a Ramaria stricta (Upright Coral) growing from some very rotten wood. Not one I have found before.
Sunday 21st November
I went to Sankey Valley Park to survey the Site of Special Scientific Interest and check if it would be suitable for a foray. Unfotunately it was mainly Willow and the access was by a narrow muddy path with a stream on one side and a bog on the other. I only saw one fungus, Mycena galericulata (Common Bonnet). Concluded it was not feasible to take a group.
Monday 22nd November
Golf this morning. Still lots growing. An area newly cleared of scrub and saplings was showing thirty or more Lepista Nuda (Wood Blewit). I also found a group of Collybia peronata (Wood Woolyfoot) growing in a bunker. What were they doing there? A few Mycena have started to show, mainly Mycena olivaceaomarginata (Brownedged Bonnet).
Tuesday 23rd November
I visited a local park having been informed about dozens of Gestrum growing there. Despite clear instructions, I did not find them. Probably covered by leaves and the Council have been laying down leafmold. Only Clitocybe nebularis (Clouded Agaric) to be seen but they were very large.
Monday 29th November
The freezing weather gives me an opprtunity to look at the things in boxes I have not got round to looking at. I have a nice Myxomycete. I found all the relevant bits, spores, columella, capillitium and have taken photos of them through my microscope. I have searched through the book by Bruce Ing. I still do not know what it is. Ah well. Next box.
Wednesday 1st December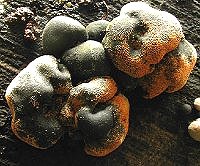 No golf today. Another little box, this time a rustlike fungus on Daldinia concentrica (Cramp Ball). Nothing in my books about fungi on cramp balls but it had unusual microscopic features. A search through the various diagrams revealed Nectria inventa but not on cramp balls. A colleague then found reference in the BMS database to such a find and I then found a photo on the internet. Conclusion.
Friday 10th December
A liitle bit of a thaw but only the top half inch so still no gardening. My sprouts look terrible. I managed to identify my Myxomycete using Prof. Bruce Ing's book. It was Physarum robustum. Some helpful person said I should have tried his article on Snowline Myxomycetes. Very topical.
Saturday 11th December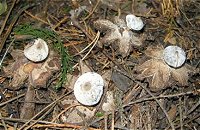 Liverpool has thawed out so I went for walk round my local parks. It is still worth looking for tiny Mycena in the moss at the base of trees. I found two but need a pair of tweezers to extract them. Joy of joys. I went back the area where I found Geatrum striatum last Xmas and found that they have increased to eight.
Monday 13th December
At last I was able to play golf today. In the pine needle litter I found some Collybia dryophila (Russet Toughshank). Not unusual as my records show that I found this in the same place in 2005.
Thursday 16th December
Managed to get a game of golf in before it snows again. I saw only one tiny Mycena so I left it where it was. I returned to another of my unidentified dried specimens. This one was a Hohenbeuhelia found growing out of a bank of sandy soil at Ainsdale. After much study and consultation with other experts, we concluded that it was Hohenbuehelia petalodes. This is a first for this area, the nearest records being for North Wales.
Sunday 26th December
Seasonal Greetings. No Xmas Day foray this year. Still iced up. I had still have some boxes left over so I looked at another dried specimen. This one was a thin white bracket. My notes told me it was not bitter, so not a Postia. The spores and bits matched Trametes pubescens. Not one I have identified before. It must have interested me at the time otherwise I would not have kept it. I hope it thaws soon.
Tuesday 28th December
What a difference a day makes. It has rained for 24 hours and Liverpool has gone from 4 inches of freezing snow to a total thaw. So I walked across my local golf course. Within seconds I had found a patch of Clitocybe, I think fragrans (Fragrant Funnel) but the smell is very indistinct. Then Flammulina velutipes (Velvet Shank) which you would expect. Also Galerina vittiformis (Hairy Leg Bell) in the lea of a large Oak. They were all in good condition. Amazing how resilient these fungi are.
Friday 31st December
Nice to finish off the year with some finds. I went up to the allotment to clean out the greenhouse and growing from the building sand I used to lay my foundations were four Peziza cerea (Cellar Cup). I also found Ascocoryne sarcoides (Purple Jelly Disc) gowing on my Apple tree. This is not a typical host.
Happy New Year and Good Foraying.