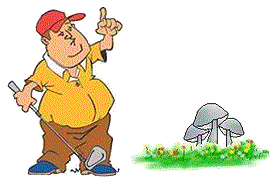 Saturday 5th September
A foray for Beginners at Rixton Clay Pits, near Warrington, was led by Rita Cook. The area around the ponds was a bit too verdant for the group to find much but the afternoon, in the broadleaf woods, proved more fruitful. Notable finds were Tubaria dispersa on old hawthorn berries, Russula exalbicans (Bleached Brittlegill), Pluteus podospileus (very small), a Leccinum scabrum (Brown Birch Bolete) which turned pink when cut (the old L. roseofractum or Blushing Bolete). They are now considered the same species. Mycena adscendens (Frost Bonnet), with the small disc at the end of the stem. Also found were a number of Cortinarius species of which only C. saniousus was identified. More study of this species is required.
Friday 11th September
My golf course produced eight Boletus edulis (Penny Buns) and Lactarius helvus (Fenugreek Milkcap). Another golf course, a couple of miles away also produced Boletus edulis. All under Birch, so now must be the time to look. I also found some Leccinum aurantiacum under Aspen, a most beautiful fox red.
Saturday 12th September
Walking home through the Eric Hardy Nature Reserve in south Liverpool, a 'wellington boot' site, I spied a Pluteus on the underside of a fallen tree. It was P. umbrosus (Velvet Shield). Not one I had seen before and was recently featured in the Field Mycology magazine.
Sunday 13th September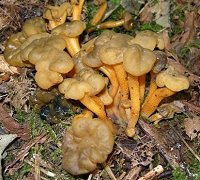 I led a foray to Carr Mill Dam near St. Helens, just off the East Lancs Road. This turned out be an excellent broadleaf wood with a good diversity of species. Most memorable were Polyporus tuberaster (Tuberous Polypore), Rutstroemia (now Lanzia) echinophila, growing from a Turkey Oak cupule, dozens of Leotia lubrica (Jelly Baby) and Cudoniella acicularis (Oak Pin), Lasiosphaeria ovina, and six identified varieties of Inocybe, including I. pusio and I. nitidiuscula.
Monday 14th September
Golf again. This time only two Penny Buns (Boletus edulis).
Wednesday 16th September
My local golf course produced a couple of interesting specimens. Galerina pumila, a tiny fungus growing in moss, and Boletus porosporus, one of the Xerocomus types.
Thursday 17th September
Went for lunch with an old friend who lives at Cwynyd, near Corwen, in Clywd. Took him foraying up the local mountain. Lots of Brown Birch Bolete (Leccinum scabrum), some Fools Funnel (Clitocybe rivulosa) and what looked like a Hygrophorous but it was a bit too old. I think I may have another convert.
Saturday 19th September
Had to go back to Carr Mill today as nobody believes that we found Rutstroemia growing on Turkey Oak. The books say that it grows on Chestnut (Castanea). Found it again. Definitely Rutstroemia. Definitely Turkey Oak. I propose an English name - The Hairy Nuts Disco.
Back at my allotment, my neighbour has Coprinellus micaceus growing everywhere. Presumeably from the old roots of a plum tree he cut down nearly ten years ago.
Sunday 20th September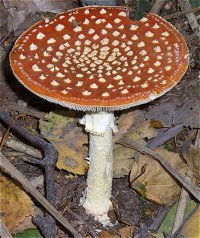 Joined Paul Hamlyn for his foray at Moore. Fourteen forayers turned up. Unfortunately, we have had no rain for two weeks so things are starting to dry up. We started well and found three different Hebelomas (Poison Pies), some Russula versicolor (Variable Brittlegill), Pholiota gummosa (Sticky Scalycap) and lots of Macrolepiota procera (Parasol). More unfortunately, they were under gorse, so proceedings became a little prickly. Along the old canal bed the only species we found was Amanita muscaria (Fly Agaric) although there were lots of them. Proceedings ended early.
Monday 21st September
Back to golf. The course is also very dry. A couple more Boletus edulis (Cep) but from a different area. They are spreading. Still lots of Leccinum duriusculum (Slate Bolete) under the Aspen and some Agaricus xanthoderma (Yellow Stainer) but in much reduced numbers from past years.
Wednesday 23rd September
Golf again. Yet another Birch tree supporting Boletus edulis. Both full of flies. This may seem boring but I have been playing golf on this course for forty years and looking for fungus for twenty of them. It is only in the last few years that ceps have started to appear, first under a one lone tree and now I have five sites so far. Looks good for next year. I wonder what set them off. Is it the weather, the age of the trees, what??
Monday 28th September
My first but only one Amanita muscaria (Fly Agaric) on the golf course which is now very dry indeed. This was the only fungus to be seen all day although this may be due to the greens staff having caught a grasscutting bug.
Wednesday 30th September
Hundreds of Rickenella fibula growing on one of the teeing areas at the golf course, in five separate orange patches. It looked very strange.
Thursday 1st October
A walk through my local park and I found Pleurotus pulmonarius (Pale Oyster)on some cut branches from one of the Beech trees. Interesting because this species is referred to in 'The Forayer' magazine, which I only received this morning. Also Lactarius blennius (Beech Milkcap) whose milk turns grey when it dries.
Friday 9th October
Mrs. MykoGolfer, who is in charge of our lawns, pointed out some Rickenella swartzii growing in our green sward. I advised her she needs some mosskiller.
Saturday 10th October
A wet morning so I finished pruning the blackberry bush. The afternoon turned out nice so I went to Speke Hall (NT) which is only 5 minutes down to road for me. Surprisingly there were quite a few fungi about. Lots of Suillus luteus (Slippery Jack) on the Great Lawn under the pines. Volvariella gloiocephala (Stubble Rosegill)and Stropharia aurantiaca (Redlead Roundhead) on woodchip. Stocktons Wood, ancient woodland which adjoins Speke Hall, produced a nice stand of Pleurotus cornucopiae (Branching Oyster). Still got a box to do.
Sunday 11th October
Thought it would be a good day as we set off for Moor Piece, near Clitheroe in Lancashire. A very wet boggy site where wellies are essential. So boggy that I nearly lost one of them on two occasions and I bumped my head on a low bough. Dangerous sport this foraying. Irene Ridge was leader, being the only one who knows her way round without drowning.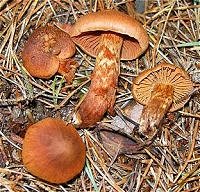 The effort was well worth it with 100 species found including Cortinarius rubellus (Deadly Webcap) - see picture. This was the cause of a serious case of poisoning in Scotland last year. Also Suillus bovinus (Bovine Bolete) with its companion fungus, Gomphideus roseus (Rosy Spike)and dozens of Cordyceps ophioglossoides (Snaketongue truffleclub). Lots of boxes to take home. A full list will be added when it is complete.
Monday 12th October
Back to golf. Course still very dry. Only two Amanita muscaria (Fly Agaric) to be seen.
Thursday 15th October
I revisited the wood at Hale in Cheshire, where I had previously found the Rhodotus palmatus (Wrinkled Peach). It was not there but I was able to identify the fallen tree as it now has Daldinia concentrica (Cramp Balls) growing on it. It must be Ash although there is a Daldinia which grows on Elm but usually burnt wood, which this is not. I also found another Lanzia echinophila, this time, reassuringly, on Castanea husks (Sweet Chestnut).
Saturday 17th October
Digging my allotment today. All the woodchip paths have come alive, at last. Coprinus lagopus (Haresfoot Inkcap), Stopharia aurantiaca (Redlead Roundhead) and hundreds of Psathyrella microrrhiza (Rootlet Brittlestem).
Sunday 18th October
I went on the NWFG Foray at Piethorne Valley and Ogden Reservoirs. My word, it was cold. Nevertheless, there was a good variety of Hygrocybe (Waxcap) including H. psittacina (Parrot), H. laeta (Heath), H. pratensis (Meadow), H. ceracea (Butter), H. irrigata (Slimy) and H. virginea (Snowy). Also lots of Cordyceps militaris (Scarlet Caterpillarclub). It seems that many moths bit the dust this year. A large number of Psilocybe semilanceata (Magic Mushroom) so I presume that the sheep are happy up there. Speaking of sheep. Yes - bits with little yellow things on were duly collected and (carefully) put into little pots, much to the astonishment of the less experienced.
Wednesday 21st October
Although the golf course is still dry, the recent rain brought out some Agaricus campestris (Field Mushroom) and Suillus grevillei (Larch Bolete). Are things looking up?
Friday 23rd October
Went to Otterspool Promenade in Liverpool to watch a flypast of Naval aircraft over HMS Illustrious, the aircraft carrier visiting the Mersey. The woodchip beds were alive with Leratiomyces ceres (Redlead Roundhead)and Psthyrella microrrhiza (Rootlet Brittlestem). Mrs. MykoGolfer went home to cut the lawn and found three Psilocybe semilanceata (Magic Mushrooms). Things are looking up - way up.
Saturday 24th October
I went to Ainsdale Sand Dunes Nature Reserve to take a foray on behalf of the wardens. It did not look promising as it rained all morning and there had been a heavy leaf fall. However my fifteen novice forayers proved to be very enthusiastic and we found and identifed 36 species in our three hours, including two new ones for the site, Mycena rorida (Dripping Bonnet) and Mycena adscendens (Frosty Bonnet). The Tulostoma melanocyclum (Scaly Stalkball) were found on their usual dune although they have moved further down it. Still got a few boxes to complete. A good morning.
Sunday 25th October
Back to digging my allotment. Cleaning out my greenhouse I found a small group of Mycena filopes (Bark Bonnet) behind the grobags. How did they get there?
Monday 26th October
Back to the golf course where the Amanita Muscaria (Fly Agaric) are increasing. No sign yet of the grassland fungi which usually appear this time of year.
Wednesday 28th October
The golf course is starting to come to life with Lactarius quietus (Oak Milkcap), Russula fragilis (Fragile Brittlegill) making a comeback in the warm weather and my first Waxcap, Hygrocybe virginea (Snowy Waxcap).
Thursday 29th October
Removing the tomato pots from my greenhouse I found Psilocybe cyanescens (Blueleg Brownie) growing behind them. What is the attraction as there is no wood?. My nextdoor neighbour has Conocybe rickenii growing out of her potato barrel. Our grass square is growing Mycena aetites (Drab Bonnet) and Hygrocybe virginea. All of a sudden, fungi are blooming again.
Friday 30th October
Went to the races at Wetherby. The gassy paddock was covered with Psilocybe semilanaceata (Magic Mushrooms). Hundreds of them. I think that the horses I put my money on had eaten them because they seeemed very indifferent to the winning post. Returned home poorer.
Sunday 1st November
I was leader for the Group foray to Ainsdale Nature Reserve. We were lucky. The heavy rain stopped at the very moment we started and held off until the end. Seventy species identifed so far, including Macrotyphula fistulosa (Pipe Club) and a variety of the species var contorta, which is new for this site.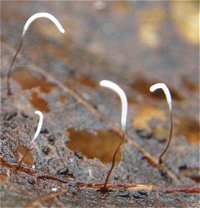 Typhula erythropus (redleg Club) was growing on dead leaves. Another new one was Crepidotus luteolus (Yellowing Oysterling),and a tiny Crucibulum laeve (Common Bird's Nest). I was pleased to see that the Cordyceps ophioglossoides (Sanketongue Truffleclub) had increased in number as this was starting to disappear. We only got as far as the woods because the wind was too fierce to stay on the dunes. I fell over and my colleague was hit by a small tree. Dangerous occupation this foraying.
Tuesday 3rd November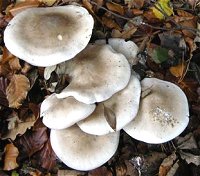 Got fed up hunched over my microscope so I went for a short walk to my nearest park. Bad idea. I came back with more boxes of specimens. What a difference a week makes. I came across a patch of Clitocybe nebularis (Clouded Agaric), the largest was seven inches across. They were not there last week. The bad news is that I found Hygrophorous hypothejus (Herald of Winter) so get prepared.
Thursday 5th November
Golf again. After all the rain the course was blooming. All the usual species. Leccinum scabrum (Brown Birch Bolete) ,various Russulas and Amanita muscaria (Fly Agaric). Also a flush of Agaricus campestris and arvensis (Field and Horse Mushrooms). I only selected one specimen which turned out to be Collybia dryophila (Russet Toughshank).
Friday 6th November
On the allotment, I was concerned to see some Armillaria gallica (Honey Fungus) growing on the main path, presumably from the roots of one of the surrounding trees. I hope it does not spread as it has a liking for Rhubarb. Found some Mycena olivaceomarginata (Brownedge Bonnet) in the grass.
Saturday 7th November
Clearing my tomato pots out of the greenhouse, I realised that a Psilocybe cyanescens (Blueleg Brownie)was growing from each banboo cane. Does that count as woodchip? Must enquire further.
Sunday 8th November
It rained all morning but the sun eventually came out so I went for a walk around the Corpy Course (Council public golf course) again. Lots of fungi about. Mycena olida (Rancid Bonnet) growing from the bark of a Sycamore. I did not detect that much of a smell. Also Clitopilu prunulus (The Miller) and Laccaria proxima (Scurfy Deceiver).
Monay 9th November
Back to playing golf again. It was icy this morning but this did not deter the fungi. Chlorophyllum rhacodes (Shaggy Parasol) and Clitocybe ditopa (Mealy Frosted Funnel). Another harbinger of winter, Lepista nuda (Wood Blewit) has appeared. Winter drawers on.
Tuesday 10th November
I have to find some myxomycete specimens for a workshop on Saturday. After the rain eventually stopped I went to my local park but the Corpy have removed all the fallen wood in case someone falls over it? So no luck there. Found some Hygrocybe laeta (Heath Waxcap) and Laccaria tortilis (Twisted Deceiver), the latter in large numbers. Also an interesting Hypoxylon cohaerens (Woodwart) on a fallen tree.
Wednesday 11th November
Golf today. Even non-fungi people told me about the fungi on the course. Loads of Amanita muscaria (Fly Agaric) have appeared. I picked Leccinum versipelle (Orange Birch Bolete)for my soup collection. Also Hygrocybe pratensis (Meadow Waxcap) and lots of different Mycenae (Bonnets) on the backs of the sand bunkers.
Thursday 12th November
A double header today. First to my allotment to pick some sprouts for tea. Tubaria dispersa is an interesting fungus which usually grows on buried Hawthorn berries. It also grows on buried Cotoneaster berries which is what I found it on. It must like red. Also a good few Clitocybe phyllophila (Frosted Funnel) in the orchard. Then it was back to the search for Myxomycetes (Slime Moulds) at Speke Hall woods. There were lots of fungi about, including Lactarius aurantiacus (Orange Milkcap) and Cudoniella acicularis (Oak Pin). Thousands of Mycena galericulata (Common Bonnet) but not a Myxomycete anywhere. The Great Lawn in front of the Hall was covered with Suillus luteus (Slippery Jack) and Boletus luridiformis (Scarletina Bolete) under the Pines.
Friday 13th November
Thought I had found an exciting specimen under a Hazel tree but it was only Laccaria laccata (The Deceiver). Caught out again.
Saturday 14th November
The Myxomycete Workshop was presented by Professor Bruce Ing, who wrote an authoritative book about them. Fortunately, he brought some specimens with him so that we could look at them with our microscopes. Although called slime moulds, most of them are not slimy nor moulds. They start as amoebae-like cells which inhabit mainly tree bark where they eat bacteria. They eventually produce small fungi-like fruit bodies which produce spores and off they go again. They can be cultivated by cutting a piece of bark from a tree and keeping it in a damp dish. Armchair mycology. Mrs. MykoGolfer has not yet noticed the holes in her garden trees.
Monday 16th November
Golf this morning. The mild and wet weather has encouraged yet more fungi. Clavulina rugosa (Wrinkled Club) has reappeared under the same Copper Beech as it has done for the past ten years. Also a new find, Hebeloma sinapizans (Bitter Poisonpie). This brings my species list for my golf course to 378. Not bad when you consider that I do not go looking for them but just find them while playing golf.
Thursday 19th November
No golf. Course waterlogged. So I went for a walk round another of my local parks. I came back with Lepiota castanea (Chestnut Dapperling), Lyophyllum decastes (Clustered Domecap) and, half way up a Beech tree, Hapalopilus rutilans (Cinnamon Bracket). Also the tiny Mycena hiemalis. These grow in the moss at the base of tree trunks. You have to look hard to see them.
Friday 20th November
Weeding my allotment, I found Lepista nuda growing in the straw around my Rhubarb. It is known as the Wood Blewit, not Rhubarb Blewit.
Tuesday 24th November
Will this rain never cease? I was checking cabbages today and noticed a group of what looked like samll Wood Blewits growing on the grass path. But they were not quite right, if you know what I mean. They were not chunky or purple enough and the smell was wrong. They were Lepista sordida which is not one I have found very often.
Monday 30th November
Golf course more like marshland. A few new fruit bodies of Lactarius quietus (Oak Milkcap) and plenty of Mycenae (Bonnets) but no new species. Everything looking a bit bedraggled now. Only one collection, of Mycena galopus var nigra (Black Milking Bonnet), for my records for this year.
Sunday 6th December
I am very worried about my plum tree. I found some Hypholoma fasciculare (Sulphur Tuft) growing in my allotment. The only wood which could support this fungus would be the roots of my tree.
Monday 7th December
Golf today. The fungus which seems to be relishing the wet conditions is Paxillus involutus (Brown Rollrim). They were everywhere.
Wednesday 9th December
Nothing much on the golf course today. A lone Russula nitida (Purple Swamp Brittlegill) but a large patch of Clitocybe metachroa under a stand of Larch.
Sunday 20th December
Mrs. MykoGolfer insisted that I decorate the hall, stairs and landing before the family arrived for Christmas, so I have not been out. I was permiited to play golf yesterday but apart from a large flush of Mycena filopes (Iodine Bonnet) in a sheltered larch copse, there was nothing else around.
Friday 25th December
Merry Christmas. Despite the poor weather, I went on my Christmas morning walk round my usual haunts. The local golf course is closed becasue of snow, so I was able to visit parts not usually accessible. Thinking I would be looking for brackets and things under logs, I was surprised that I was able to find all sorts. I identified 23 species, 8 being gilled fungi, including Agaricus silvaticus (Blushing Wood Mushroom)and Clitocybe fragrans (Fragrant Funnel). They were mostly under Pine which semed to have protected the underlying ground. I also found two Geastrum striatum (Striate Earthstar), certainly the stars of this foray and quite unusual. Just goes to show that even in this weather, there is something to be found.
Tuesday 29th December
I went back to the area where I found the Geastrums, to identify the conifers. They were pine, cupressus and yew. A found some Crepidotus cesatii in the same area. I also returned to where I found a large brown fungus which I could not identify. There were two more. From the colour and the thick stem, it was obviious they were Ampulloclitocybe clavipes (Club Foot). Problem solved.