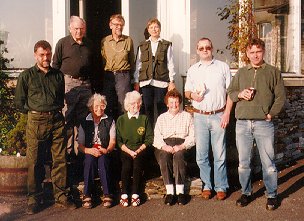 This memorable event was held on 17-19 October 1997, at Blencathra Field Centre, Cumbria, which lies on the middle slopes of Blencathra overlooking Keswick. Superbly organized by Rita - even down to the weather, which was brilliantly hot and sunny (whereas for the original foray dates, the previous weekend, it had rained non-stop) - twelve lucky forayers enjoyed a weekend with all the right ingredients: some good fungi, beautiful Lakeland scenery, good company, comfortable accommodation and plenty of lab space.
Most of us assembled on Friday evening when, apart from colonizing the lab, we viewed a few fungal slides and planned the foray programme. The Saturday foray was to the south side of Ullswater, travellling via Howtown to Hallinhag Wood near Sandwyck. Nobody got lost (unusual) and everyone managed to park their car, so we set off in sunshine laden with baskets. I managed to kneel in a cow pat within five minutes but things improved after that. The wood slopes steeply down to Ullswater and is mainly acid oak-birch with other species, including beech, in the lower part. We found a good selection of fungi (the list is available from Rita) and rounded off the morning by a peaceful lunch at the lakeside. After this, a few people pressed on whilst others returned at a leisurely pace - the going was pretty rough. Three of us made it to the far side of the wood and were rewarded with finds such as troops of Crepidotus mollis (gelatinous layer under the cuticle) on a fallen beech, Peziza succosa on soil below said beech and, in a grassy clearing, troops of scarlet Russula mairei, a huge ring of Clitocybe nebularis and Hypholoma anthracophila on an old fire site.
Rumour had it that there were some interesting grassland fungi along the roadside above Howtown. So on the return journey a few people stopped to investigate and it was certainly worth the effort. The short, grazed turf had a fine array of waxcaps, including swathes of Hygrocybe coccinea, numerous punicea, lacmus (a find by Rita and rather rare) and nitrata (a find by Joan Hopkinson). Peter Smith made our only earthtongue finds, Geoglossum glutinosum, G. umbratile and Trichoglossum hirsutum whilst, of four clavarioids found, Clavulinopsis dichotoma (we think), at two sites, was the most interesting. John (Taylor), Rita and I had an interesting encounter with a (very) friendly Herdwick sheep who ambled over to us, reeking of sheep-dip, pushed her head in every bag and basket and then trotted off through a prize patch of scarlet waxcaps before there was time to photograph either her or the fungi.
Saturday evening saw the display table filling up with fungi, much talking and people helping each other as we worked at the microscopes and a certain amount of elbow lifting in the comfortable bar at the centre.
Sunday was even hotter and sunnier and we set off on foot for a morning foray to a local wood. Some people didn't even take their packed lunch. The trouble was, there was too much to see on the way, most notably a pasture just below Blencathra Centre that was covered with waxcaps. In the end, we never did reach the target wood but explored a small clough woodland and then I rushed back to spend two hours crawling all over the waxcap field, plus camera and lunch (which I had not left behind). The final total was 18 species of Hygrocybe, four Entoloma and three clavarioids and it was not just the number of species that was exceptional but the number of fruitbodies, which literally carpeted the grass. I identified most in the field using Patrick Leonard's Quick Key (in the last BMS Newsletter) and then confirmed all in the lab using microscopic examination and David Boertman's book on Hygrocybe. The records will be sent in for the National Survey of grassland fungi and I am sending them also to the Blencathra Centre staff who have said they intend to pass them to English Nature and also talk to the farmer who owns the field in the hope that he will continue to manage it in exactly the same way.
About half the group returned home on Sunday afternoon but the rest stayed until Monday and visited the home of our President, Juliet Frankland. I think that everyone enjoyed the weekend and learnt something new, so warm thanks to Rita for organizing the event and to Blencathra Centre for providing such an excellent venue. A residential foray when there is time and facilities to sort out and discuss finds after the field visits is a real boon and I, for one, hope we can repeat it in 1998.
On Monday, 20 October, a reduced number of us left Blencathra to visit Ravenstonedale, Juliet's home territory, at the kind invitation of both Juliet and her sister-in-law Helga. Ravenstonedale is a remote area of rolling fell country with a wild beauty of its own, which lies east of the M6 at Tebay and somewhat south west of Kirkby Stephen.
On the morning of the 20th we drove through to Uldale, a more minor valley which lies amid magnificent open fell scenery, to meet Juliet and Helga by a Sitka spruce plantation. This woodland is one of several sites from which Juliet collected Mycena galopus for the mycelium study she described to us in her Presidential address in 1997. Below us lay Needlehouse Farm, the enchanting old farmhouse which is Helga's home. Rewarded by fine weather once again, we explored a variety of surrounding countryside and recorded around 60 finds. Our foraying activities were agreeably interspersed with visits to the farmhouse for both lunch and a magnificent traditional high tea provided by Juliet after which (totally replete and consequently with some difficulty) we helped John to draw up the list for the day.